Bharatpe Loot: Get vaccinated and get Rs.300 in your bank account. Download Now BharatPe App Now. You Can Go Just register and you see an offer banner on the homepage and click on that and submit your details. You Have Done !! You will get Rs.300 cashback in your bank account.
Get Rs.300 FREE CASHBACK IN YOUR BANK ACCOUNT INSTANTLY. Just A Simple Basic 2 (Two Steps And Earn Cashback With BharatPe App.
Get Rs.300 Cashback for COVID-19 Vaccine! Get it now. Let's fight against COVID-19 together! Get vaccinated! And get cashback received in your bank account.
Our Latest Offers:
How to download Invoice from Flipkart? – 5 Easy Steps
FirstCry 9 June Offer – Flat 100% OFF Upto ₹1500 At 3PM
[Today] Droom Face Shield Sale – Pack Of 3 at ₹9
[Loot] Zomato Pro Activation Code Free At 3 Months
BharatPe Covid-19 Cashback Offer – GET Vaccinated & FREE Rs.300 In Your Bank Account
1. First Of All, Download BharatPe App For Below Link Here:-Download Now
2. Install & Login In Your Existing Account & Create A BharatPe Account
3. Enter Mobile Number With Verify OTP & Successfully Login Account
4. You Have Must Has Been Link Any Bank Account Then To Continue Next Steps
5. Home Screen Show It Banner BharatPe COVID-19 Vaccine Cashback Offer
6. GET Now! & Next Page For GET Started Now
7. Enter Your Details Fill Type KYC: PAN Card Number & Proof Of Address Aadhaar Card
7. Enter Pan Card Number To Match Name & Verify Now
8. Enter Your Aadhaar Card Number & Enter Captcha Code To Be Proceed Now
9. Final Steps: Picture Uploaded In Your COVID-19 Vaccination Certificate
10. Continue! You Have Successfully Submitted Document & Confirm Verified Within 48 Hours By Notify
11. Done!! GET Vaccinated You Will GET Received Rs.300 Cashback In Your Bank Account After You Complete 50 Transaction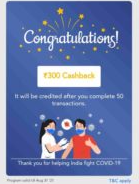 Please comment below and share your feedback if you have any problem regarding this offer and loot.