Google Pay Jaipur Event Answers
Google Pay Jaipur Event Answers – Get ₹100 Directly Into your Bank
---
Jaipur Event Answers, Google Pay Go India Offer, Go India Google Pay Offer –Firstly, Hello Cashbackbeta Users, Hope You Guys Are Enjoying Our Daily Earning Offers. Like The Previous Year, Google Pay Have Launched Yet Another Offer Before The Diwali Festival 2020. Also, You Have a Chance To Earn ₹101 – ₹501 By Virtual, By Visiting All Cities To Complete Journey On Google Pay That To Before 25th November.
Finally, Today the Google Pay Jaipur Event Answers is Now Live. Where You Can Now Visit The Jaipur From 10th November To 12th November. Firstly, You Just Have To Answer Few Questions to get the Rewards From Google Pay, You Can Now Visit Jaipur A Second Time If You Have Visited Jaipur Before. Finally, Now Answer 5 Questions and we have added those below. We are Creating a Giveaway of Prizes for this Diwali, Go check out on our Telegram Channel.
Firstly, We Have Seen Google Pay-Go India Dharamshala Event in previous Post, Go India Hyderabad Event & Go India Mumbai Event. We Had Posted The Full Details With The Questions & Answers – To Win The Assured Scratch Card From that Event From Google Pay. Also Posted, Dharamshala & Mumbai Tickets To Participate In the Event. And This Time We Will Giveaway Jaipur Tickets In Our Telegram Channel, So Join Our Telegram Channel Now.
---
How To Participate Google Pay Jaipur Event
Firstly, Download Or Update Google Pay App
Secondly, Open The App & Login Or Sign With Your Number.
Thirdly, Now Scroll Down The Page And Tap On The Go India Offer.
Finally, Collect the Jaipur Tickets And Visit Jaipur City From 10th-12th Nov, You Can Visit Jaipur A Second Time If You Have Visited Jaipur Before. [Just Share Your Map You Will Get Mumbai Tickets ] You Can Earn Jaipur City Tickets By Doing Tasks In Google Pay-Go India Contest :
Share Go India Map Or City Photo Daily
Recharge
Pay For Google Play Recharge Code
Scan Google Pay QR Codes
Pay Bills
Buy Gold
5. Answer All 5 Correct Answers And Win Assured ₹20-₹100 Directly Into Bank
---
Google Pay Jaipur Event Answers With Questions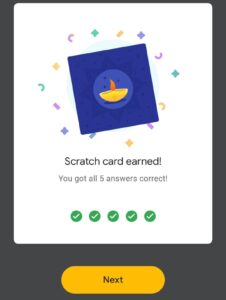 1. Which Of The Following Monuments Is Not Located In Jaipur
Ans: Red Fort
2. On Dhanteras, Where Would You Shop In Jaipur
Ans: Johari Bazaar
3. Rajasthan Is The State Of With The Highest ?
Ans: Area
4. How Many Windows Does Hawa Mahal Have ?
Ans: 953
5. You need to call Google pay customer care for details related to your gold transaction and Dhanteras cashback upto ₹1000 how will you find the customer care?
Ans: Go To Help Inside Google Pay App
6. Jaipur Is Popularly Known As
Ans: Pink City
7. Which of the following should you buy from Jaipur
Ans: All Of Them
8. Which dish below is unlikely to be in Rajasthan meal ?
Ans: Butter Chicken
9. Which tourist circuit consists of Jaipur, Delhi and Agra
Ans: Golden Triangle
10.
Ans: Never Share UPI PIN
11.
Ans: 
---
Payment Proof :