Freecharge Cashback Offer
[BOOM] Freecharge Holi Surprise Loot – Upto ₹100 Free Recharge
Freecharge Holi Offers, Freecharge Holi Cashback Offers, and Freecharge Free Recharge Offers are all available on Freecharge. Greetings, Readers!! This is Holi season, and numerous apps are currently offering Holi deals. The Amazon Holi Store is now open, with a variety of Holi-related deals, and we've already taken advantage of the PayTM Holi Bash 2022 game offer. On the occasion of the upcoming Holi Festival, Freecharge has released yet another fantastic offer.
Last year, Freecharge launched a Holi Surprise Offer with up to Rs.2000 cashback on recharge coupons, and many of our users won cashback ranging from Rs.100 to Rs.500. Now, on this Holi 2022, Freecharge is back with new recharge cashback offers.
Freecharge Cashback Offers For 50 Free Recharge & Freecharge UPI Offer For 10 Free Recharge were recently posted. I'm hoping you've already gotten your hands on this. If not, here's another opportunity to get a free recharge.
Also, Freecharge is Running ₹1 Deals & You Can Grab Upto ₹80 Free Recharge By Purchasing This Deals. We Have Listed All This Deals In This Freecharge Recharge Cashback Offers .
Freecharge Holi Cashback Offer 2022 – Get Free Recharge
Freecharge Holi Related Account Specific Codes
| Freecharge Code | Cashback |
| --- | --- |
| HOLI50 or 50PE50 | Get Rs.50 CB or Rs.50 Recharge |
| 100PE100 | Get Rs.100 CB or Rs.100 Recharge |
| FC50 | Get Rs.50 Cashback |
| HOLI40 | Get Rs.40 CB or Rs.30 Recharge |
| HOLI30 or RANG30 | Get Rs.30 CB or Rs.30 Recharge |
| HOLI20 or RANG20 | Get Rs.20 CB or Rs.20 Recharge |
| HOLI10 or RANG10 | Get Rs.10 CB or Rs.10 Recharge |
This All Codes Are Account Specific. Just Check Your Email Address & Find The Freecharge Email For This Offer Codes.
Or You Can Directly Check Into Freecharge Account
Apply All Codes One By One & See Which Code is Working For You
Enjoy !!
Freecharge Holi Surprise Offer | Get Upto Rs.2000 Cashback :
This Offer is Now Over (Offer Was Released During Holi 2020)
1. First of All Update or Download Freecharge App From Given Link Here. :
2. Login using your details.
3. You will be on dashboard and you will able to see Banner Like Below.
4. Tap on avail now Button.
5. You will get your 100% Cashback voucher up to Rs.2000 depends on your Luck instantly.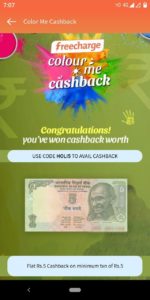 6. You will get a cashback code in front of that currency note.
7. Use that Coupon Code while Recharge and you will get 100% Cashback instantly in your Freecharge Wallet.
8. Next Day , Visit Same Page Again & You Will Receive Another Cashback Code.
9. You Can Receive Any Random Cashback Codes Like – HOLI5, HOLI10 , HOLI40 & ₹50 , ₹100 & Even ₹2000 Cashback Codes.
10. So, Try You Luck & Loot Free Recharge From Freecharge.
Have You Seen This ? – Best Free Recharge Apps Of 2020 | Free PayTM Cash Giving Apps Of 2020